If you are looking for some new Green blogs to follow check out this weekly blog hop. If you have a Green blog then just add your link at the bottom!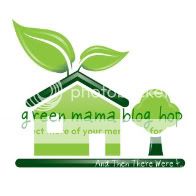 Each week, starting next week, there will

be a fifth, Featured Blog to be followed as well. To qualify to be the Featured Blog, you will need to participate

in all of the guidelines. I will pick one at random from all qualifiers. I will email you the Monday before the Hop, if you are chosen.
MANDATORY:
* Add your blog's home page to the Linky list! I will be monitoring the blogs to make sure we only have 'green', family-friendly blogs involved.
* Follow the 4 hosts and the blog ahead of yours. Make sure to leave comments on each of the blog so they can follow you back! The more you follow, the more will follow you back!
OPTIONAL:
(You don't have to do these to enter the hop, but you must do both to qualify for the Featured Blog position)
* Grab the new Green Mama Blog Hop button and place it on your home page.
* Put the button into a post on your blog. Then leave a comment on this Hop post with the link.
This hop will open each Tuesday night and will be open all week. It will start over each week, so keep coming back each week to enter!